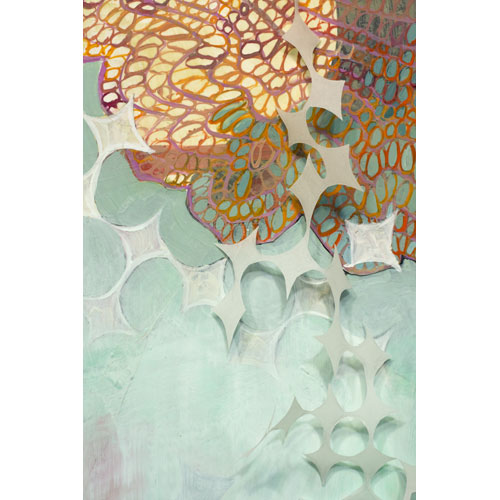 Statement
I begin with a crude installation of materials, transformed from their original state into a glistening world of sensation. I photograph the installation from multiple angles, manipulating focus to obtain desired effects such as blurred pailettes and clean edges of fabric. I incorporate patterns that refer to vintage wallpapers, sea life, objects and architecture from everyday life that attract my eye and spark my interest. The imagery becomes modified through memory.

The paintings allow the eye to climb, move in and out of spaces, vibrate, dangle and slide on the two-dimensional plane. As these free-flowing forms mingle with the surface of the painting, I become engaged with their subtle movements and how they cast shadows. My surrounding visual playground transpires on the surface of the painting.

Through this process I look for things that my eye can play on: a variety of objects, congested landscapes, and intricately embellished clothing. I'm attracted to shimmer, exaggerated lines, repetition, and multiple objects to create a unique visual playground. I'm interested in the way fabrics and objects occupy the space around them and how each activate the space differently. I am not interested in how the original object functions, but how I can use its form to activate what is already in place on the painting.